Each year, the SAS gives a $500 scholarship to a college-bound High School Senior or a student who is already enrolled in a college. Applicants, who come from the local area, must demonstrate an interest in or connection to: Scottish ancestry, history, culture, art or music.

We ask that applicants be from the Southern tier of New York State. Thank you.

2014 Winner:
The 2014 Robert Burns' Scholarship went to Juliet Downie of Painted Post. In her application, she included a picture of herself, tartan clad, giving a report on Scotland. Her essay was delightful!
JULIET'S ESSAY:
"I have always been interested in studying and appreciating other cultures, and have often tried to learn more about the history and traditional customs of various nations. In particular, I feel a strong tie to Scotland and its culture, and I enjoy immersing myself in the Scottish tradition.
My fascination with Scotland began in third grade, when I researched Scotland and its culture for a school project. I knew that I had Scottish ancestry on my father's side; my father often boasted about his Scottish heritage. I enjoyed learning about kilts and tartan patterns, and about bagpipes and other hallmarks of Scottish culture. For the presentation at school, I proudly wore my own tartan skirt in an effort to dress the part of a Scottish lassie. I was charmed by the historical appeal of Scotland and its folk traditions.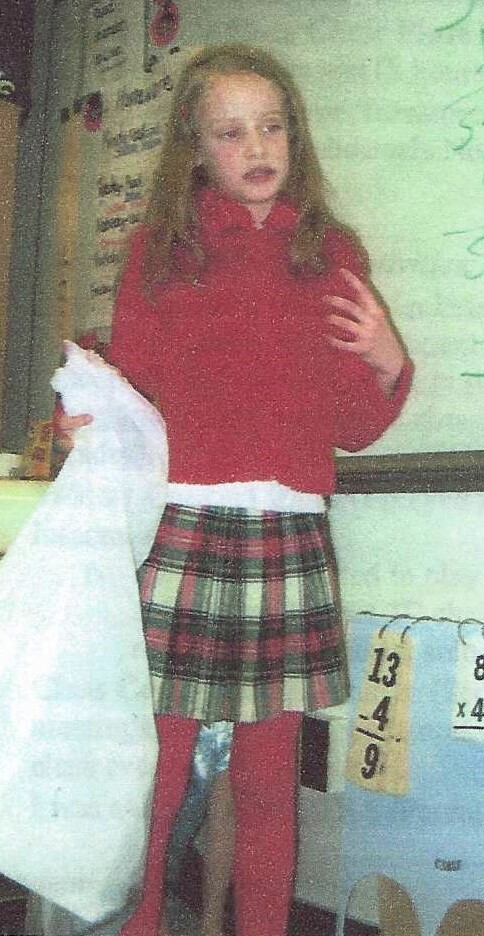 A few years later, my mother undertook a large genealogy project in which she researched my ancestors many generations back. Through her research and the contributions of other family members, I became much more knowledgeable about my Scottish heritage. I learned that I have a direct line back to Scotland through my paternal side. My great-great-great grandfather, John Downie, emigrated from Scotland to Bovina, New York, in 1858 with his first wife and son. His family came from Coatbridge, near Glasgow, where John was originally a boatman but then retrained to become a shoemaker before immigrating to the United States. The Downies were members of the Lindsay clan.
I also discovered that I have a physical connection to my Scottish roots; my family has inherited my paternal great-great-great-grandfather John Downie's wooden chest, a large trunk used to transport his belongings. It was used by later generations to store tools and other possessions. This chest made the journey in 1858 from Scotland to New York onboard the ship City of New York, and it now resides in my living room. It serves as a constant reminder of my Scottish heritage, and of the resilience and steadfastness of the Scots. Like its original owner and Scottish culture at large, this chest has weathered hardships and stood the test of time.
My father is proud of his Scottish heritage, and several years ago, he received the book Howthe Scots Invented the Modern World by Arthur Herman as a Christmas present. He relished it and I, too, have flipped through its pages, enjoying the historical detail and information about everything that the Scots have accomplished, from feats that are widely known to more obscure accomplishments.
Today I still become attentive and excited whenever I hear or see something about Scotland in my history textbooks or on the news. As a senior in high school, I am looking forward to the opportunities that college may bring to study abroad at a foreign university. In particular, I am greatly interested in traveling to and studying in Scotland. I can envision myself living amid the centuries-old buildings of Edinburgh or Glasgow, hearing church bells toll in magnificent cathedrals, and becoming steeped in Scottish culture. Until the opportunity arises, I will have to satisfy my interest in Scotland by listening to Fiona Ritchie's weekly radio program The Thistle and the Shamrock, broadcast on NPR from her studio in rural Scotland. The program showcases Celtic music, both old and new, from Scotland and areas with strong Scottish roots. Listening to the diverse mix of Celtic styles and musical traditions momentarily transports me to the foothills of the Scottish Highlands and reminds me that while Scotland has a rich and storied history and celebrated traditions, it also has a firm place in the modern world. I would like to explore that place, but for now, I must appreciate Scotland from afar.
--Juliet Downie


2013 Winner: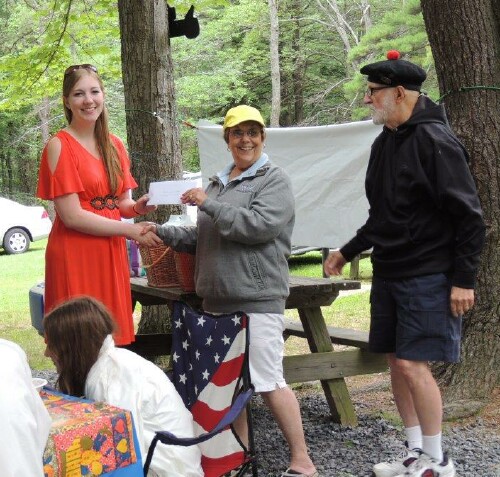 Jenna Cunningham
The Society's Robert Burns Scholarship was given to Jenna Cunningham, a recent graduate of West Genesee High School in Camillus, New York. Jenna is the granddaughter of our first Chief, George Cunningham, and his wife Barbara. She will attend the University of Buffalo in the fall to study math and music.
JENNA'S ESSAY:
My Scottish heritage has always proven a strong part of who I am. My grandpa, George Cunningham, was born in Scotland and moved to America in his late twenties, and was president of the Scottish American Society.
My family has always taken pride in our Scottish heritage. Each year, we go to the Scottish Games. At this festival, we hear bagpipe music, eat Scottish food such as meat pies, look at Scottish artwork, and watch the traditional Scottish games. I have also had the opportunity to participate in the Robert Burns dinner. I ate traditional Scottish food such as haggis, and was exposed to the poems of Robert Burns, a truly talented poet. Furthermore, I had the privilege of singing "I Belong to Glasgow" with my sister and father at the dinner.
Although I have had many great Scottish related experiences, nothing surpasses the experience I had during one summer. The summer before my sophomore year, I was privileged enough to go to England and Scotland to visit relatives and explore these countries with my family. We were able to drive all around the country, starting in Edinburgh, going up north to Inverness, next to Oban, and then traveling back down to Glasgow. The farther north we traveled, the stronger the Scottish brogue.
During our travels, I experienced many of the foods and traditions of these countries, many of which I was already familiar with because of my grandpa. We ate Scottish meat pies, bridies, haggis, and homemade scones. Every morning, we were treated to an "English Breakfast," which consisted of beans, black pudding, bangers (sausage), eggs, tea, toast, and marmalade.
We were also lucky enough to visit the Culloden Battlefield. Scotland's history is filled with battles and wars, fought in an attempt to gain their independence from England. My visit to Culloden Battlefield made me think of all the hardships my ancestors had to endure.
The highlight of my trip was when I visited my Scottish relatives. I was able to learn about their different viewpoints. Many of my relatives are socialists, and were curious about what we thought of President Bush. We also talked with them about their government and their healthcare system. In talking to them, I learned of some of the drawbacks of having universal healthcare, as well as some of the benefits.
I will be majoring in music in college and would love to study Celtic music. I also compose music, and have just begun a piece that has a Celtic influence. I am considering starting a Scottish Heritage club in college to celebrate my heritage with other people my age. Furthermore, one of my dreams is to attend Carnegie Mellon University. They have a very strong Scottish heritage there and celebrate it avidly. I am considering joining the Kiltie band and participate in other Scottish activities.
Traveling overseas and exploring England and Scotland broadened the way I think about the world. I was surprised to find that there were more similarities than differences between the different cultures. This experience has stimulated a desire in me to learn even more about Scottish heritage. I am truly grateful for being immersed in Scottish culture.
2012 Winner
2012s winner is Piper Chester, a recent graduate of Alfred-Almond Central School, who will attend Rochester Institute of Technology. The scholarship this year is given in memory of Shirley Sutherland MacIntyre, Phillis MacDonell and Jean MacKenzie, all long-time SAS members. Although applications are solicited early in the year, they are welcome at any time and are available from Trustee Gil Ferris. Click here to contact Gil.